Email Marketing is the most productive marketing channel in the digital era. Prevailing email marketing strategies abandon mass mailing to targeted mailing to prospects and to your loyal customer. Through email marketing you can awaken your customers about your new launch products and services,special offers and locked content like e-books and webinars. Email Marketing permits us to build correlation with your audience and occupy traffic in your website,social media or anywhere you want traffic to visit in addition to automated features.
One of the most trustworthy and ROI based email marketing services providers in  the today period.Through which you can make your email marketing strategy more reliable and result oriented. You can generate creative good-looking emails along with automated emailing features. You can opt for the different products according to the size of your business and email list. Beside the free plan there are various paid plans you can choose from.
Some Pros of 171Mails are:
Easy to use
Automated Feature
User-Friendly
Subscriber Management
Personalized Content
Drag-N-Drop Newsletter Builder
Deliverability consulting
Competitive and Beneficial
One of the finest tools of email marketing  through which you can create,send and track the email marketing campaign.It's come up with each and every thing that is required to grow the business.We can easily schedule campaign,knows click through rate,unsubscribe rate,A/B Testing and many more.You can pick out from different plans which must most suitable for your business.
Essentials: $13+ per month
Some Pros of choosing Mailchimp:
Free forever plan( Up to 500 contact list)
Easy to build
Customized campaign
Personalized experience
Mailchimp can integrate lots of software
Drag-and-drop features
    Best email automation software comes with pre-built automation which leads to simplifying customer interaction. You can design a personalised campaign for each subscriber that makes your campaign more effective on a physiological level.
Build for each stage of the customer journey.
Reach
Nurture
Convert
Grow


You can opt for the plans according to your requirements.

Lite-$29

Plus-$49

Professional-$149

Enterprise-Talk to sales


Pros of using Active Campaign:

Easy to use

Powerful automations 

Easy to integrate with other tools and many more.
Its drag and drop interface makes it the simplest and most easy to handle email marketing tool.Plainness is the company mission to keep thing simple and easy to handle without any complexity.It offers an endless plan that includes 1,000 subscribers and 12,000 email sends along with paid plan also depends on how much email list you are having. We can switch to the monthly plan as well as the yearly plan. If we pick out a yearly plan we can get an additional 15% discount.Special discount 30% for non-profit organizations.
Up to 1,000 contacts: $10 per month
1,001 to 2,500 contacts: $17 per month
2,501 to 5,000 contacts: $32 per month
5,001 to 10,000 contacts: $54 per month
Some pros of choosing Mailerlite email marketing tool:
Free plan 1k contacts
Lots of email template
Email support
Drag-and-drop interface makes it effortless to design emails.
Great email marketing tool for ecommerce perspective. Its polished workflows combined with advanced segmentation.Customer can receive personalised email according to the activity they are going through on the website from welcome mail  to the transactional mail when they are done with their purchase. Design to improve shoppers' experience in your website If you are having an e-commerce website it is best to go for drip email marketing tool.You can try it free for 14 days after that you can choose from the distinct plans according to your email contact list.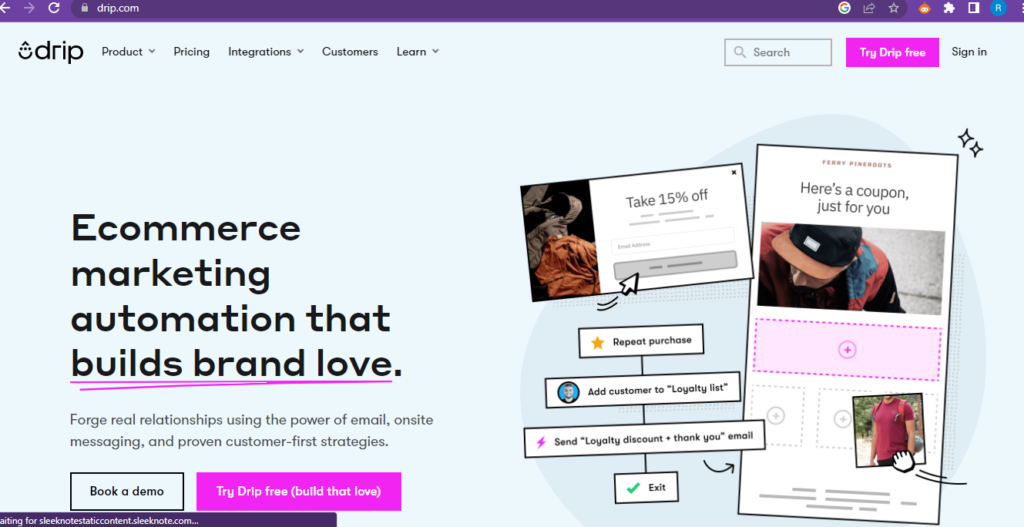 2,500 contacts: $39 per month
10,000 contacts: $154 per month
170,000 contacts: $1,899 per month
Some pros of choosing drip email marketing tool:
Powerful
Easy to use
User-friendly
Excellent customer support
Conclusion
Email Marketing mechanism is used for various businesses to grow and prosper in the digital space. 171Mail , Mailchimp, ActiveCampaign, MailerLite, Drip are the top five recommended email marketing services vary from business to business which one to switch for. 171Mail is the most recommended a tool for better automation,drag-and-drop interface and many more facilities.
We Desire,that this article will guide you to choose the most suitable email marketing services that fit your business requirement.